pellet press - hydraulic, manual, pressure force 250 kN
No. 09.9502.00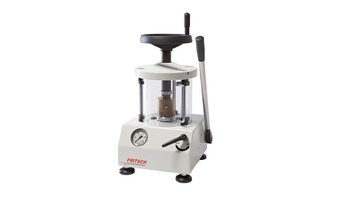 Ideal for high-quality pellets

The manually-operated hydraulic FRITSCH Pellet Press is ideal for fast and easy preparation of both: solid and highly permeable pellets of solid samples for X-ray fluorescence analysis or infrared spectroscopy. It's as easy as this: Fill in the sample, close the magnetically-held door and build-up the desired pressure using the hand lever - that's it. The pressure force is variable up to max. 250 kN and is automatically relieved in case of overstress. If your pellets require binding agents for stabilisation, please contact us and we will be happy to assist.
The pressing tools are not included with the pellet press and have to be ordered separately.

Further pressing tools and automatic pellet presses with a pressure force of 400 kN can be delivered on request.