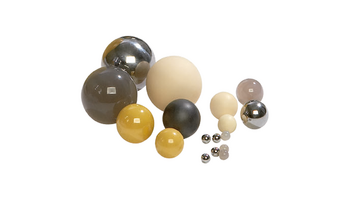 General material specification:
Material: hardened, stainless steel - Fe-Cr
Abrasion resistance: good
Suitable for: hard, medium-hard, brittle samples
100 grinding balls made of hardened, stainless steel with 5 mm dia. weigh approx. 52 g.
With the weight information, the high number of balls per grinding bowl can be determined by weighing.
Element Analysis
General specifications
Material
hardened stainless steel – 1.4125
ISO/EN/DIN code
X105CrMo17
Chemical composition
Element
Share %
Iron– Fe
81.4
Chromium – Cr
17
Carbon – C
1.1
Molybdenum – Mo
0.5
Physical and mechanical properties
Density
7.7 kg/dm³
Hardness
~ 60 HRC
Explanations on hardness data